26th March 2020 - This page has been updated with further ways for our Ambassador community to achieve rewards. We continue to welcome feedback on how we can further improve the breadth and scope of our Ambassador rewards.
As an Algorand Ambassador, you are one of our key leaders among the worldwide Algorand blockchain community. You are part of an amazing group who believe in the potential of the Algorand blockchain and are helping to build local communities, focused on sharing knowledge and insights on the development of the blockchain ecosystem. The Algorand Foundation has created a global program to reward our greatest partners for the work they are doing to create vibrant Algorand communities.
As you grow your local Algorand community you'll be eligible to earn Algos by completing achievements.  These rewards are our way of saying thank you for your commitment to the community. 
Check out the list of Achievement rewards below, or submit your own proposal, and start earning them today! 
Organize an Event : Earn 1,000 Algos 
One of the best ways to spread the word is to host an event! From developer workshops, to broader meetups about Algorand and/or hackathons, all gatherings are a great way for more people to join the Algorand ecosystem. And since Algorand's blockchain platform allows for so many varying use-cases, any audience is the right audience. We believe diversity and inclusion are key to creating a truly global, borderless economy. 
Every submission will be reviewed by the Algorand Foundation for approval, and should include an email list of attendees, pictures from the event so it can be shared on our social channels, and a list of Algorand Wallets newly created. 
As an Ambassador, make sure to reach out to your local community manager to let them know you are planning an event so we can help you promote it! 
Check out our upcoming events : https://community.algorand.org/events/#/list
New Wallet Created : Earn 100 Algos
If your meetup attendees download the Algorand Wallet as part of your session, you will earn 100 Algos per wallet, up to a maximum of 10 wallets per meetup. There are specific Terms and Conditions associated with new wallet rewards.  
Represent Algorand at a local Hackathon: Earn 1000 Algos
Hackathons are a great way for developers to begin their journey on the Algorand Blockchain. If you attend a local hackathon as an Algorand Ambassador, we will provide a range of tools/content for you to use in helping the hackathon groups to start coding on the Algorand blockchain. The Algorand blockchain's flexibility and usability means that hackathons across a range of verticals and use cases would be appropriate for attendance. In addition to support content and material, Ambassadors will receive a 1000 Algo reward upon sharing attendance pictures from the event, which we can then share via our social channels.
Run Online Webinar\Workshop or Support\Participate in Algorand hosted Webinar\web-conference: Earn 500 Algos
Webinars or web conferences are an amazing way to provide insights and information to an audience that may be great geographic distances from each other. If you run you own webinar for your own audience or community, or if you formally participate in a webinar hosted by Algorand, you will receive a 500 Algo reward. Please provide a URL link to the recording of the webinar.
Create 5 Pieces of Content : Earn 1,500 Algos  
Content can be anything from articles, blog posts, infographics, videos, interviews, etc. As an Ambassador, you will have special access to our community website which will allow you to publish your content directly on our community blog. Got five pieces up there? Claim your Algos! 
The Algorand Foundation will collaborate with its Ambassadors to create content around current focus areas and topics that need global amplification. 
1000 Algo Bonuses for Content that is hosted by Algorand
Every month the Algorand Foundation will also pick one article to be published directly on its website. If your article is picked, you will get an extra 1000 Algos. Same goes if you can get your piece published on a third party media outlet! Just share with us the link where your content has been picked up! 
Summary of Achievement Rewards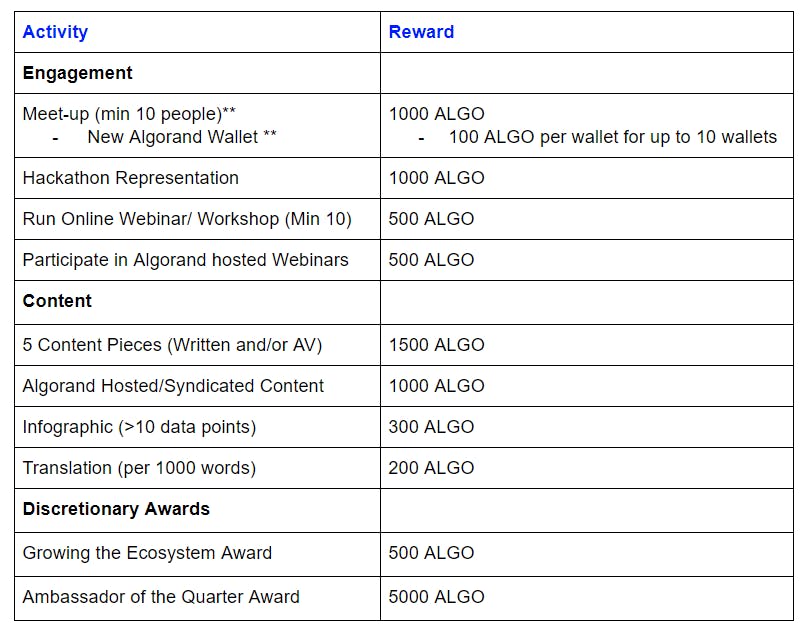 Have other ideas for growing the Algorand community? Send them over!
We know Ambassador can make many other valuable contributions to the community and network beyond meetup organization and content creation, which is why we welcome your ideas and suggestions, and will reward diverse efforts geared towards network growth. The "Growing the Eco" reward allows us to quickly reward innovative ideas that Ambassadors have used to grow our community.
This rewards program is one way in which we hope to enable our Ambassadors to take a lead on growing the Algorand ecosystem. The Algorand Foundation will exercise its discretion to evaluate and reward your contribution on an ad-hoc basis.   
View our Ambassador Rewards Terms and Conditions here.
Learn more about the Ambassador Program and view Current Ambassadors here. 
Questions? View frequently asked questions, or reach out to [email protected]