BSN is a global infrastructure based on the blockchain operating environment, providing a one-stop-shop for DApp developers to deploy and manage any permissioned or permissionless blockchain applications.

BSN - 2 Systems
Due to legal and regulatory requirements in China, public blockchain projects can find it difficult to enter the Chinese market. That's why the integration with permissionless, public chains is only allowed in the global version of BSN so far. The O.P.B Initiative serves as a solution that enables the public chain technologies to develop within the borders of China, in a regulatory-compliant manner, while providing a low-cost and easy-to-use blockchain infrastructure for Chinese developers and enterprises alike.
"Localized" Public Blockchain
The O.P.B is an underlying blockchain framework that has a structure between a public blockchain and a permissioned blockchain. The idea was initially inspired by AntChain, a permissioned enterprise blockchain developed by Ant Financial, a subsidiary of Chinese tech giant Alibaba. The Ant Blockchain Open Alliance of AntChain, and the XuperChain of Baidu are both the existing attempts in this area. 
To "localize" the public chains, BSN will only allow the designated operators to build and operate nodes, where DApps verify on-chain transactions and store data. The network will block all peer-to-peer fee transactions and require its users to use renminbi instead of token to cover gas fees for building and running DApps on chain. Besides the mentioned adjustments, the operating mechanism of the O.P.B aligns with that of the public version.
"Without the decentralized governance and incentives, there is no need for a large number of nodes." Said He Yifan, CEO of Red Date Technology, the private company behind the BSN, "Under normal circumstances, every O.P.B only requires 5 to 10 nodes, as long as the nodes are distributed physically wide enough."
Algorand - Embracing China and a Borderless Economy
With the vision of building a Borderless Economy, Algorand is committed to the development of an inclusive and transparent system where anyone can build prosperity through decentralized applications and projects, no matter where they are. BSN is working on cultivating a prosperous blockchain industry ecosystem by solving the high-cost problem of DApp deployment and maintenance. This shared vision has led to the in-depth cooperation between the two parties.
With the official launch of Algorand mainNet and testNet on bsnbase.io last Friday, both the mainNet and testNet nodes are now installed on BSN Public City Nodes (PCN, which are not chain nodes, but BSN data centers). Developers outside China can now choose to use a standardized development environment to build and run applications on Algorand on BSN. By connecting Algorand's development environment to BSN nodes, Algorand developers are also able to build DApps through BSN overseas PCNs and run nodes, as well as access the enterprise chain and financial data.
On top of that, the BSN O.P.B initiative further brings the advanced technology of Algorand into the Chinese market. With adjusted functions on Layer-1, Algorand can boost its value directly to Chinese developers and enterprises.
Globally, Algorand has already established deep cooperation relationships across multiple industries and sectors. For example, Algorand is working with Marshall Islands to establish the world's first national digital currency SOV. It has also partnered with Circle to integrate regulated stablecoin USDC on Algorand to enable payments and ecommerce. Building a vibrant  developer community and servicing enterprises has always been an strategic goal for Algorand, globally and for Asian markets. This year, the Algorand Foundation has launched the Asia Accelerator Program in addition to the Algorand Foundation Grants Program to drive innovation and mass adoption of the Algorand blockchain. While the Asia Accelerator program is now closed to new entrants, the Grants Program is always open to new proposals - for more information please visit here.  
Further innovations created on the O.P.B version of Algorand will be easy to integrate with, or port to, the global, permissionless version of Algorand. Learning to develop on Algorand will enable the Chinese developer community to build for both their internal and external markets, using the same skillset.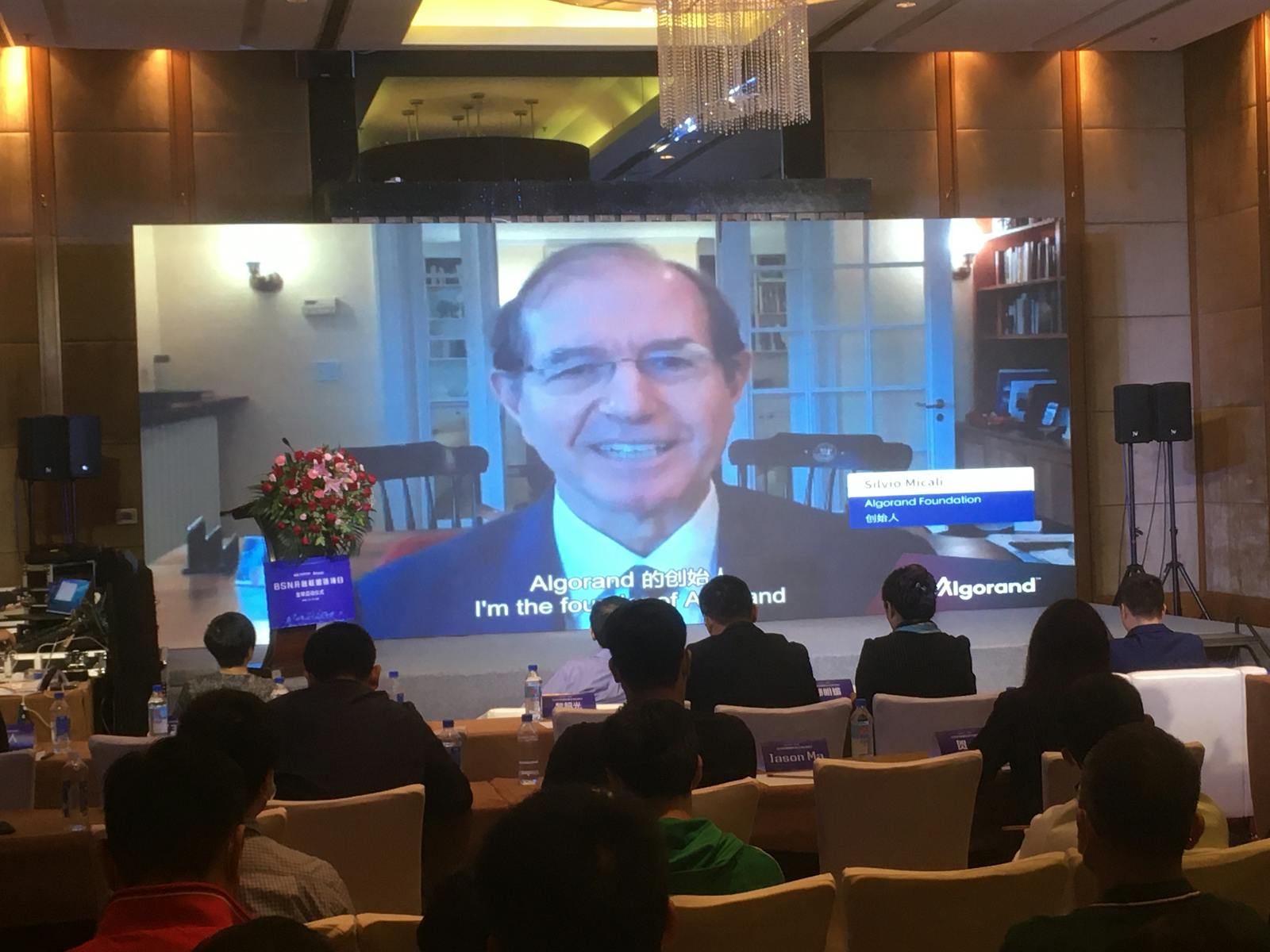 Algorand Founder Silvio Micali Delivered his Best Wishes in the O.P.B. Press Conference 
YouTube Link: http://ow.ly/g9F250BFy4z
"We are thrilled for Algorand to join the BSN program which enables the creativity of China to build on Algorand." Said Silvio Micali, the founder of Algorand in the O.P.B press conference, "I very much look forward to seeing the innovation that will come from developers in the BSN community. I wish great success to this program and to everyone who will participate in it."
About BSN
BSN is a cross-cloud, cross-portal, and cross-framework global public infrastructure network used to deploy and operate all types of blockchain distributed applications (DApps).
For more information, visit: https://bsnbase.io/
About Algorand Foundation
The Algorand Foundation is a not-for-profit organization with a vision of a borderless economy built on public, decentralized blockchain technology. The Foundation, in partnership with Algorand Inc, has built the Algorand protocol as the cornerstone of achieving this vision. The Foundation envisions a wide breadth of applications made possible on Algorand and is focused on enabling all developers to build next gen tools, educating and fostering an inclusive community encompassing protocol governance and economic efficiency in the development of the Algorand ecosystem. The Foundation is committed to facilitating this innovation in a sustainable and eco-friendly manner by utilizing the pure proof-of-stake consensus algorithm. 
For more information, visit https://algorand.foundation/