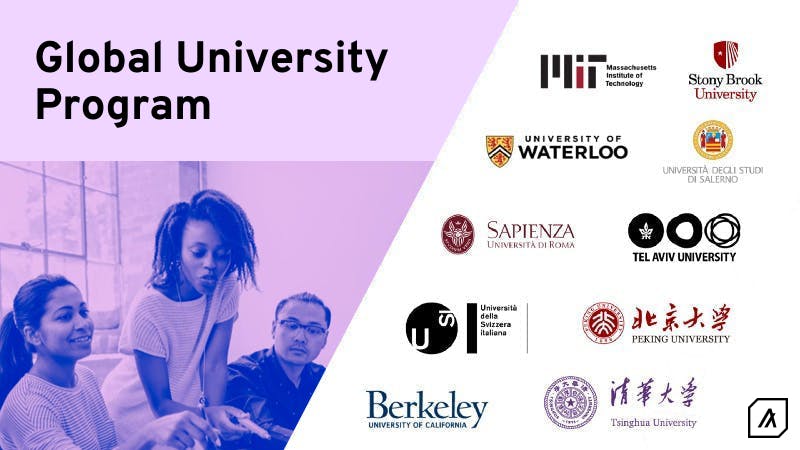 The Algorand Foundation's Global University Program includes leading scientific universities from China, Europe, Middle East, Canada, and the United States. The inaugural membership institutions represent a diverse mix of influential thought leaders in computer science and blockchain innovation. Established to provide an opportunity for students and faculty to join the Algorand community, participate in disruptive innovation, and contribute to the new borderless knowledge economy, the founding members share the Algorand Foundation's vision for the potential of blockchain as a force for social justice and global good.
Specifically, the Founding Members will be involved in suggesting technical research efforts, and supporting the decentralized Algorand platform. Each institution will have a program representative that will work closely with the Foundation. As advisors, the program representatives will also work to identify areas of potential development and innovation in both blockchain and cryptography.
"I am delighted that MIT has joined the Algorand Foundation and a highly respected network of inaugural institutions known for their excellence in research and technical innovation," said Ronitt Rubinfeld of MIT.  "We are excited by the global promise of blockchain technology that Algorand fulfills, and are looking forward to working directly with the foundation to help support its overall mission."
This program comes at a critical time where the benefits of blockchain to democratize key societal issues - such as the inequality of our financial system and overall distrust in today's economic systems – are being recognized as a way for blockchain to be leveraged for social good.  The Algorand Foundation recognizes that universities' students and faculty are at the heart of driving innovation and change and looks forward to working to build the program as the network launches and begins to grow.