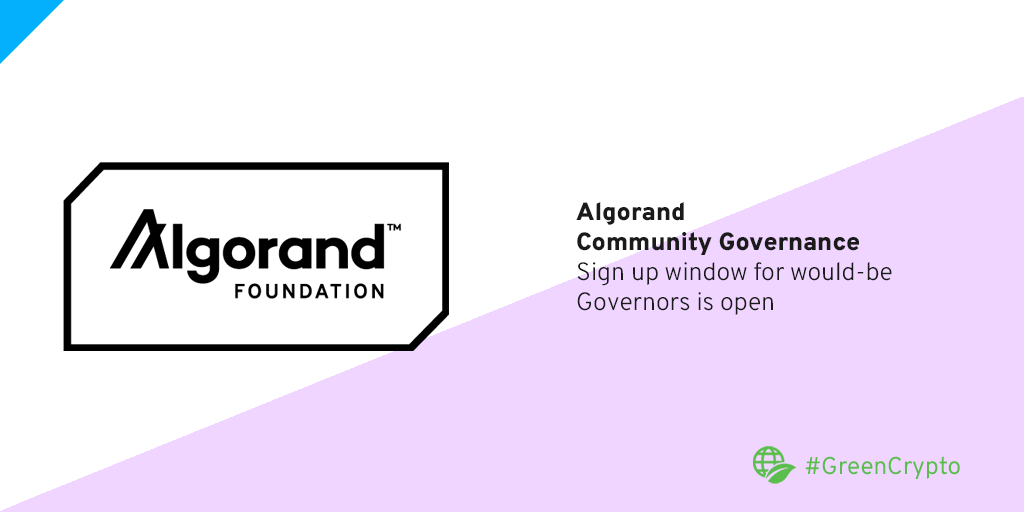 Singapore, October 1st, 2021 - We are excited to share that today, the Algorand ecosystem moves to a decentralized Governance model with the sign-up window for would-be Governors now live and available.
Any Algo holder can now sign up to serve as a Governor by committing Algos to the program for three months and participating in voting during this time. Governors are rewarded for their service to the Algorand community at the end of the three-month period. Importantly, the Algorand Foundation will yield to the Governors the decision-making power over the Algorand Ecosystem Resource Pool (AERP), a pool of Algos that was identified in the initial announcement and currently has more than 3 Billion Algos. This is a pivotal moment in the development of the global Algorand ecosystem, and we look forward to embarking on this exciting journey with you all. 
The Governance approach for the Algorand community has been designed for simplicity and maximum participation: 
Four quarterly Governance periods per calendar year.
Each Governor must commit to keeping a certain Algo balance for each quarterly Governance period.
There will be at least one voting session in each period.
Governors must vote in each voting session, but can choose to use a simplified UI to "vote with the Foundation".
Every measure to be voted on will have an information pack explaining it.
Compliant Governors claim rewards for their service at the end of each quarterly Governance period.
Reward levels are tied to the Algo commitment of a Governor.
Specific Rewards pool for each period, decided by Governance vote.
Would-be Governors can now sign up through the Algorand Governance Web Portal which is now live.
We list below some links related to participating in Algorand Community Governance and a rewards guide.