Launched on December 30th, 2020, the Algorand BSN Portal (https://bsn.algorand.org) is the first public chain-owned BSN portal which creates a gateway service accessing Algorand blockchain networks on BSN.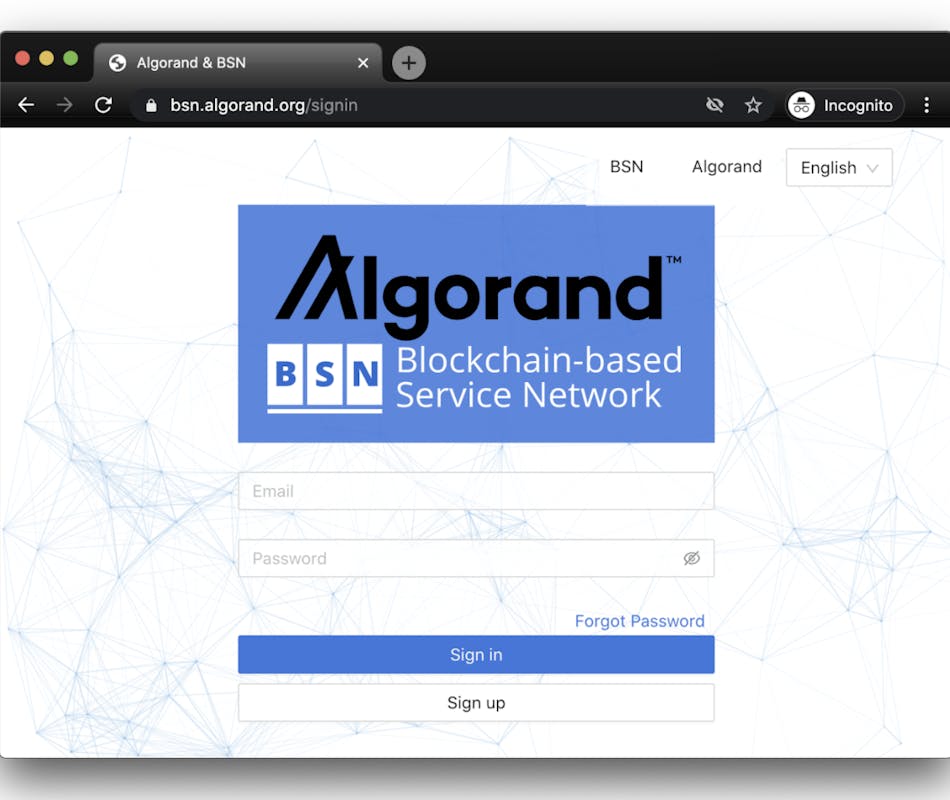 Back in September 2020, BSN  (Blockchain-based Service Network) announced the integration of Algorand into its international portal for global outreach. Within the same month, Algorand has announced to join BSN's Open Permissioned Blockchain project, leveraging the deep-rooted government resources of BSN in China. 
During the past 6 months, these 2 parties have been strongly supporting each other in multiple aspects such as technology, community development and marketing. They have now taken the cooperation to the next level. 
On December 30th 2020, Algorand launched its self-owned BSN portal (https://bsn.algorand.org), which has embedded BSN permissionless services for both Algorand Mainnet and Testnet. It is the first public chain-owned BSN portal which provides users around the world with low-cost blockchain solutions. Developers can enjoy the following benefits through the Algorand BSN Portal.
Quick access to the Algorand network, without having to maintain node infrastructure
Enjoy interoperability among all DApps deployed on the BSN
Ensure robust security of DApps based on the 2 sets of private keys approach
As a part of BSN's multi-portal strategy, the Algorand BSN Portal is currently free of charge and will remain so for at least another 16 months. Please find here a step-by-step guide from opening an account on Algorand BSN Portal to creating an access gateway to Algorand Testnet.
The Vision of BSN
BSN is an interoperability infrastructure network that intends to connect all the blockchain systems worldwide, allowing trusted sharing of data and digital assets and therefore becoming the "Internet of Blockchain". Through a multi-portal strategy, BSN can enable partners to build their portals to provide blockchain-based operating environment services for their developers, fostering a fast and organic blockchain ecosystem globally. 
Read more at:
China's state-backed BSN Integrated with Algorand for Global Outreach
https://www.algorand.com/resources/news/china-bsn-algorand
Into China! Algorand has joined the BSN Open Permissioned Blockchain Initiative
https://algorand.foundation/news/bsn_cooperation
About BSN
BSN is a cross-cloud, cross-portal, cross-framework blockchain-based infrastructure network, which integrates cloud resources, underlying frameworks, operating environments, certificate management, development SDK and gateway API together to provide developers one-stop-shop to deploy and manage all kinds of DApps conveniently and at low cost. Red Date Tech oversees the R&D and daily operation and maintenance of the BSN. To learn more about BSN visit Chinese Website and English Website.
About Algorand Foundation
The Algorand Foundation is a not-for-profit organization that has a vision of a borderless, frictionless economy built on public, decentralized blockchain technology. The Foundation envisions a wide breadth of applications being built on the Algorand protocol by a new, broader community of blockchain and mainstream developers. The Foundation is committed to facilitating this innovation in a sustainable and eco-friendly manner. For more information, visit https://algorand.foundation.