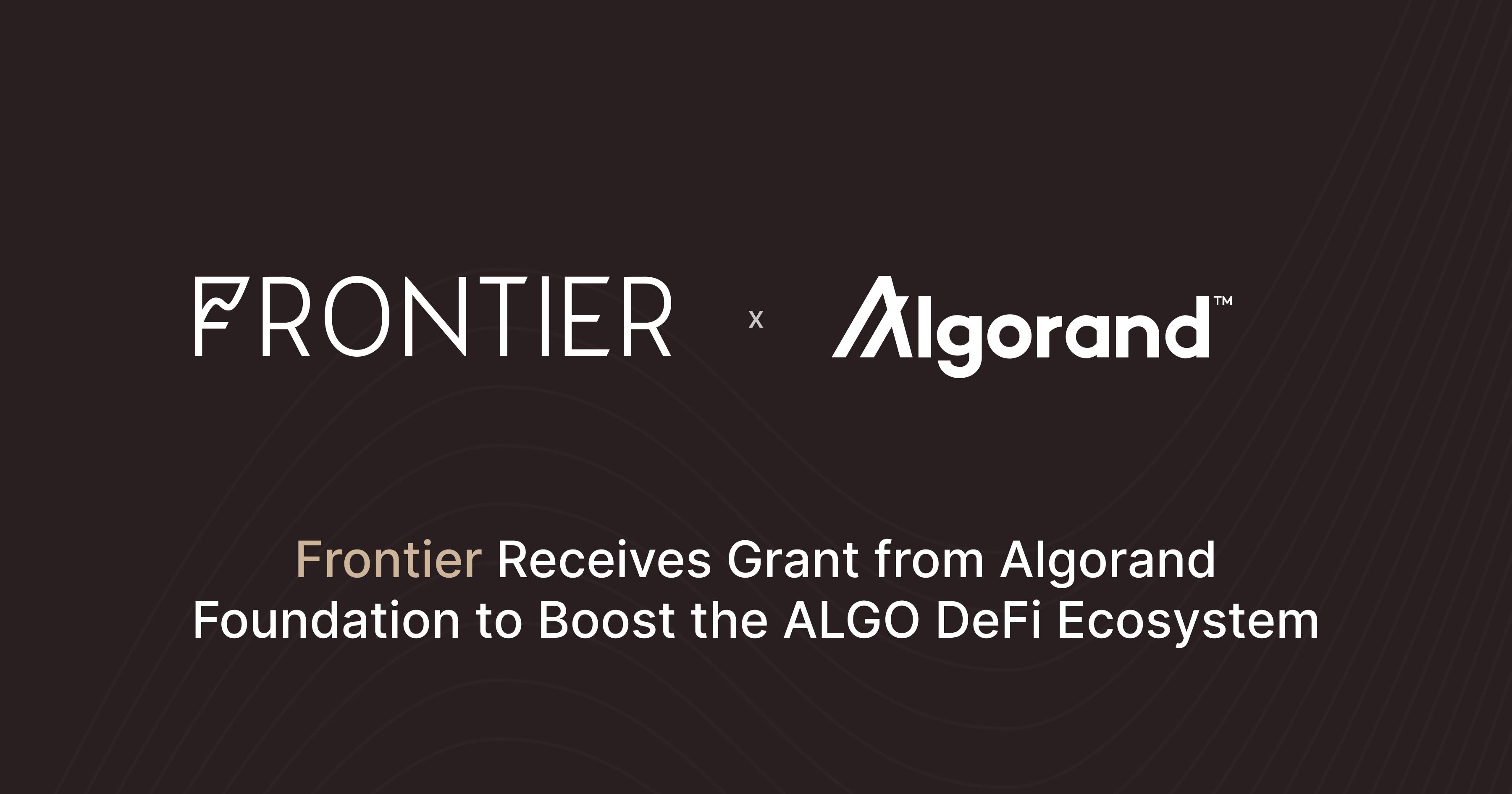 18th January 2021
We are pleased to announce that Frontier has received a grant from Algorand Foundation to support and grow the Algo DeFi ecosystem. The grant will be used to add support for the Algorand blockchain and protocols built on top of it in Frontier Application.
The ALGO Grants Program offers various funding level opportunities across application development, tools & infrastructure, research, and education & community. Frontier is now one of the projects under the program along with Circle, Props, Bloq, Chainalysis, Eterna, RockX and many others with the vision of building a true borderless economy.
Frontier's core mission has always been to build a true chain-agnostic DeFi Aggregator mobile-first product. To date, Frontier supports DeFi protocols built on Ethereum, Binance Chain, Solana, TomoChain, and Cosmos. Now through this partnership Frontier will also put a focus on supporting the DeFi ecosystem on Algorand.
As a mobile-first DeFi application, Frontier aims to bring a native experience to users of open finance. The ALGO grant will be used to add the following support into Frontier:
Native Algorand Blockchain support – Users will be able to store, spend, and receive ALGO tokens safely and securely using Frontier.
Native Staking interface – Users will be able to stake ALGO using Frontier.
Algorand connect with Trust Wallet – Using our technology TxLink, users will be able to connect Trust Wallet with the Frontier interface to track and stake AGLO tokens.
"We are delighted to announce our partnership with Frontier today" said Sean Lee, Algorand Foundation CEO. "Friction exists in DeFi today and through this partnership, Frontier will support the DeFi ecosystem on Algorand, improving the user experience by enabling users to monitor and manage their DeFi portfolio from one application".   
Ravindra Kumar, CEO of Frontier said, 'We are excited to be working together with Algorand Foundation in building a true borderless economy for everyone. Frontier as user faced product will simplify user on-boarding and interaction with dApps built on top of Algorand Blockchain'.
About Frontier
Frontier is a Chain Agnostic DeFi Aggregation layer. Using Frontier, Users can Track and Manage DeFi positions, Stake Assets, Swap or Exchange Assets and explore more DeFi Applications in one single place. Frontier is also building Frontier chain, which is a Decentralized Key Management blockchain based on Cosmos SDK.
Website Telegram Community Telegram Announcement Twitter iOS Android