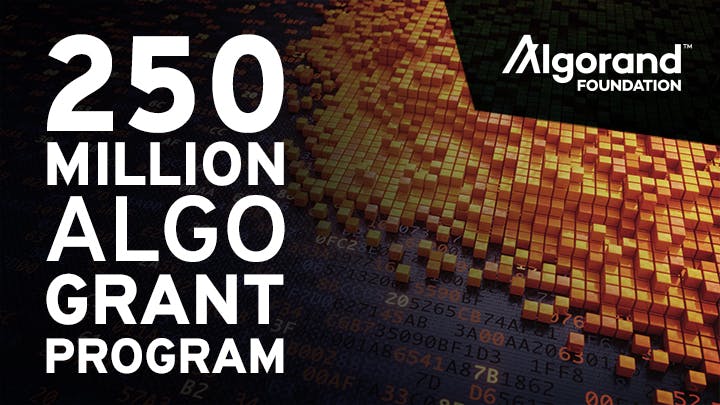 October 1st, 2020 - August and September have been two busy months for the Algorand community. During this time, we have distributed seven further new Algorand Foundation Grants to some amazing recipients. The Algorand Foundation 250M ALGO Grant Program supports grant applications across four categories; Development Tools & Infrastructure, Research Proposals, Applications & Use Cases, and Education & Community. 
We are excited at the range of the recently awarded grants, with a grant recipient coming from each grant category. These recipients and their projects are helping to build the development tools, infrastructure, and research needed to make building applications within the Algorand ecosystem as easy as possible. We want to share these projects with you. You can stay updated on Algorand Foundation Grant Program announcements and the most recent Algorand Foundation news on our website and through our official social media accounts, including Twitter and LinkedIn. You can also check out our telegram channel to meet and work with other developers in the Algorand ecosystem. Developers can visit our developer portal here where you can participate in, and contribute to, our dev forums, resources, solutions and tutorials.   
The grant recipients are: 
AlgoSwap: Development Tools & Infrastructure Grant - AlgoSwap will allow traders to exchange arbitrary fungible Algorand Standard Assets. Algoswap enables the Algorand ecosystem and network to grow providing a viable project related to smart contracts that will empower new developers as they learn to build DeFi apps on Algorand. 

Algorand IntelliJ: Development Tools & Infrastructure Grant - Provides end to end development support for TEAL scripting in Intellij IDE. Utilizing asset creation via a front end, web enabled development process.Test account management, faucet integration, transaction signing, etc. directly from IDE. The project supports our ongoing commitment and support for developers who are looking to utilize a blockchain that is easy to build and develop on. 

Obsidian Labs vscode extension: Development Tools & Infrastructure Grant - A diverse, vibrant and thriving ecosystem is very important to the Algorand Foundation and the community. This grant awards Obsidian Labs to deploy a tool which has many features, better supporting developers looking to build on Algorand using Teal and PyTeal smart contracts. 

Blockchain Acceleration Foundation: Research Grant - This grant is awarded to the University Coin Market Research project to research attitudes toward digital currencies and understand use cases for stablecoins within U.S. university campuses and their surrounding communities. The results of this study will inform the development and piloting of innovative Algorand-enabled campus payment technology.

Prof. Nicola Dimitri: The Economics of Algorand: Research Grant - The study of dynamics, in particular the long running behavior of the economy with PoS, combined with the Economics of Consensus in Algorand. Prof. Dimitri will provide advanced economic research on Algorand and Proof of Stake consensus. Prof. Dimitri is a highly regarded scholar having had his work published across relevant journals. 

Trust Graphic Novel: Education & Community Grant - Trust is a graphic novel that shares the transformative power of blockchain, to grow the global blockchain community in emerging economies and locations, where people's lives will be most transformed by the impact of cryptocurrencies. Supporting this project shows the Algorand Foundation's ongoing commitment to educating and advocating blockchain outside the Western Hemisphere, expanding the number of local developers and communities in these regions.

Scriptorium Printing Solutions PVT LTD: Applications & Use Cases - Certificate fraud in India is on the rise due to the absence of a secure storage space and an easy source to verify the authenticity of certificates. This grant is awarded for the creation of a decentralized application (DApp) based on Algorand blockchain network which will facilitate a swift way for issuing and verifying certificates digitally. The award of this grant facilitates the development of another DApp in the ecosystem, one which will become a use case for the solution to a prevalent problem, certificate fraud in India.
You can check out the comprehensive list of grant recipients from the Algorand Foundation 250M ALGO Grant Program in 2020 to date here.